NEWS!
- November 2014
- Waltham - Construction slated to begin on Eruv extension
- Swampscott - Final phase of proclamation process from Town
- Marblehead - Awaiting next meeting with Marblehead Power and Light, then with City Council for Proclamation
- North Shore Eruv fundraising meetings set to begin
- October 2014
- Salem - Proclamation received from City!
- September 2014
- Malden - Construction complete - review and final paperwork in-progress...
- North Shore - Unanimous approval from Town Council - awaiting next meeting with full City Council for Resolution
- August 2014
- Malden - All permits and licenses obtained - construction planning underway!
- Waltham - All permits and licenses obtained - final determination of owner for forested area south of campus through which planned mechitzah will run; then on to construction!
- North Shore - All licenses obtained - setting up individual town meetings for final approval then on to construction
- February 2014
- Amherst - Completed second survey to review pole identification for Town Permit and to review alternatives for part of the UMass border

- January 2014
- Malden - Preparing TRA/MBCR/MBTA and Verizon/National Grid License Applications
- North Shore - Submitted Verizon/National Grid/Marblehead Power and Light License Applications
- Brandeis - Survey with TRA on railroad crossings in Waltham associated with Eruv expansion
- December 2013
- North Shore - Met with the Swampscott Commissioner of Public Works regarding a bridge crossing - we are a go there!
- North Shore - Met with MBCR and MBTA officials to discuss updated plan for crossing commuter rail tracks - positive outcome; submitted a new proposal to TRA for signature approval.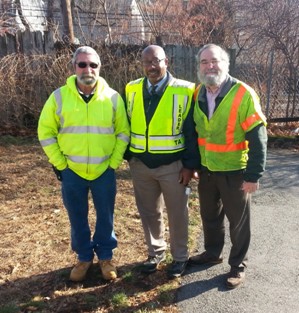 Staff from MBCR and MBTA meet with Dr. Hefter (right)


- UMass/Amherst - Face-to-face meeting with WMeCo officials in Hadley, MA very successful.


- November 2013

- UMass/Amherst - Conference calls with WMeCO progressing well; initial meeting with UMass positive. Reaching out to Amherst officials.
- Brandeis/Waltham - Awaiting meeting with City of Waltham for approval of off-campus segments.
- Malden - Written expansion planned reviewed; will need to contact city, MBTA, and utilities for permit extensions.
- North Shore - Updated proposal sent to National Grid for railroad crossing proposal. Awaiting response.


- October 2013

- Onsite review of Brandeis University Eruv and expansion plans. Completed definition of borders and next steps for meeting with the city, university and other licensing parties.

- Initial meeting with MBCR in Swampscott to review the Tzurat HaPesach needs that involve the commuter rail system. Expanding the discussion to National Grid for a possible simpler, permanent solution to crossing the rail tracks.

- Initial meeting with UMass/Amherst students to design an Eruv for the campus and nearby neighborhoods (under the GBEC umbrella). On October 27, 2013, Rabbi Yosi Eisen, the UMass/Amherst OU/JLIC Rabbi, and three volunteers students (right-to-left: Elisheva, Nathan, Ariel, Rabbi Eisen, Dr. Hefter) met with Jesse Hefter of GBEC to tour the campus and establish an initial design for an Eruv that will include nearly all the campus and extend into nearby neighborhoods. One day earlier, Dr. Hefter was invited to deliver a Shabbat morning d'rasha at the KHH/JLIC Minyan during which he explained the importance of Eruv and the technical basics associated with establishing an Eruv in contemporary settings.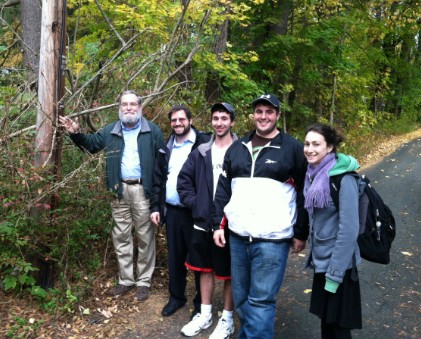 - Shabbat HaGadol 2012 - The 1000th Shabbat of our Community Eruv. Dr. Hefter was invited to speak at the Young Israel of Brookline on that Shabbat. Several weekends later, Dr. Hefter spoke to the Maimonides Kehillah after Shabbat morning davening about the history and genesis of the Eruv.